giant mascara models
the spiney heads were stereo lith parts and the handle was machined plastic.
Giant Avon cosmetic models
machined in plex and brass that was later plated
4' pill dispenser for Comedy Central
The pill dial advanced slowly around with intermittent motion like the minute hand of a clock...the lens over the days of the week was stationary
Giant credit card prop for Comedy Central
giant pill prop for Comedy Central
giant snackwell prop for Comedy Central
I bought a loaf of Italian peasant bread. Hollowed out the middle and inserted that sculpture of filling. Then made a big silione mold and cast it as a solid chunk of resin. Then continued to perfect that casting - shaping the outside and fixing certain overly bready looking shapes on the inside. When it was done, I made another mold...then used chocolate colored resin to cast this one. Then lacquer after that..
number props that float
in plastic and foam... they tossed them in the ocean
Giant brush prop for Garnier Fructis
big hair trouble cured by Garnier Fructis
Giant hairdryer for Garnier Fructis
Big hair dryer isnt enough for big hair trouble...if you only used Garnier Fructis
giant 7 up bottle prop
giant cookie prop
Print ad for the Beckett paper co.
giant custom book prop for SNL
Giant ice cream cone for Toyota
This was attached to a truck that drove around Brooklyn
Giant parfait glass prop for SNL
A cast member sucked on the straw while it drained out under the table. Made of two vacuum forms and a little turned acrylic stem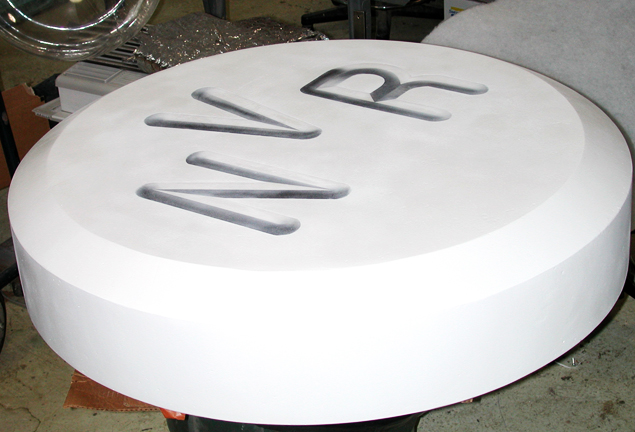 giant pill raft prop for ocean scene
the actor climbed aboard...some analogy about pills being a life raft
giant ruler prop
in wood with a heavily burnished decal to simulate stamping.
giant soap prop
in cast resin, with a sharpie for scale....
giant toy box props
TV commercial..kid wakes up Christmas morning to find live boy band action figures.
Giant trophy for MAC vs. PC commercial
80" tall trophy prop, for a Mac vs PC commercial.
Giant whistle prop for cinnamon toast cruch commercial
braised brass plated with nickel
Oil of Ole bottle props
something is 'missing' in the competitor's product
Huge magnifying glass prop
Harry Potter skit on SNL
Two vacuforms with water sealed inside...10" diameter
This was used in a Harry Potter sketch to magnify Linsay Lohans cleavage...she was playing Hermione who 'grew up' and Ron and Harry were ogling her.
ice age 2
Promo Sculpture.
85" tall
large pill props
oil of olay oversized
more competitor bottles with something 'missing'
Machined from large chunks of plex and painted on the inside
oversized color correct for MTV commercial
MTV VMA/ Acuview commercial
700 lb 'antidote' cologne bottle
3 day schedule. Jeff was the gluing genius!
oversized metallic plaque
For 'Game Killers' a show pilot that never caught on...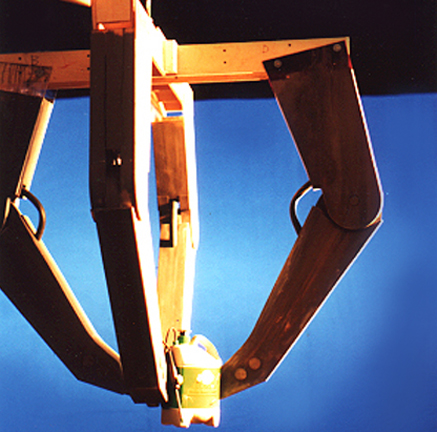 big claw.
big pill bottle for Kmart commercial
k mart pharmacy commercial. 21" high
Botticelli shell prop
This was for a photoshoot with Ellen Degeneres as Botticelli's Venus..for her HBO special. Bondo, resin, and bendy wood.
giant pipe prop
Giant juicy bottle props for Juicy Couture
vacuum formed water tight bottle with cast resin charms and label.
Giant juicy bottle props for Juicy Couture
vacuum formed water tight bottle with resin charms and metal etched label
Giant juicy bottle props for Juicy Couture
Water tight vacuum formed bottle with cast resin ornaments and charms.
Giant juicy bottle props for Juicy Couture
vacuum formed water tight bottle with cast resin label and charms.
giant bird sculpture with man on top
Resin sculpture with steel armature. There is a tiny man pooping on this birds head. He is featured in the miniature section
Giant scratch off ticket for NY lottery
Laser cut vinyl and acid etched brass on back painted acrylic.
giant scratch off ticket for NY lottery
Laser cut vinyl with acid etched brass.
giant ice cube prop
About 30" tall, in vivac and resin
giant amethyst props
some are 12" tall....using special resin trickery
Giant 4' wide check book props for TBS bank commercial
Oversized check book prop for TBS bank commercial
same bank commercial...6' long
Huge checkbook props for TBS bank commercial
Really massive...9' long...although hollow and somewhat light weight
giant marker prop.jpg
5' tall out of plex, poly carb, bondo, and some foam on the tip there..for HDTV
giant quarter props.jpg
10" diameter in cast resin...for HDTV
giant packing peanut props.jpg
kitchen table 4 am about to deliver them to set
giant perfume bottles
in two scales...large and medium large. For a famous singer's perfume. The text and logo graphics were added digitally later. Off gassing in the paint booth.