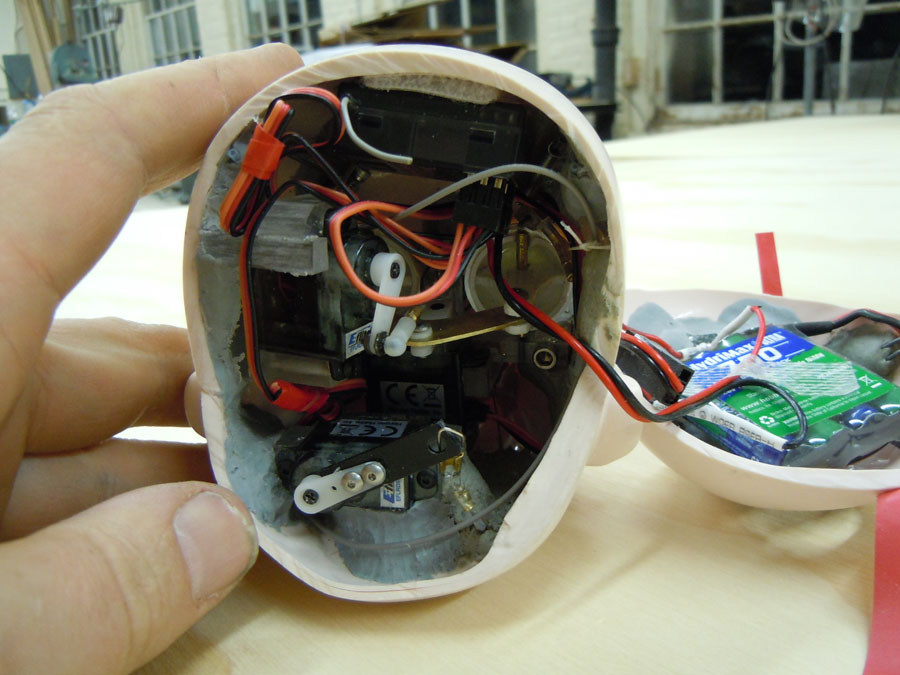 animatronic doll heads.jpg
Four heads total .. mechanisms controlled eye blinks, right and left eyeball movement, and bottom lip flappage.
ticking pill dispenser
This ticked and rotated intermittently. Laser cut plex with cast resin pills.
175 gallon bubble tank
fear factor for kids SNL
This was filled way past the capacity we had agreed on. It bowed out but did not leak or break :] scary!
comedy chair with stirrups
bubble head rigs for online commercial
We made steel spines sewed into vests that held the bubble helmets centered over the heads of the main actors.
they were allowed to lean againtst the back of the head for the extras in the backround
cat train
Store window for John Carter at Spaeth. The wheels and clock face rotated, and the smoke twisted
birdplane
Store window bird for John Carter @ Spaeth The wings flapped, head turned and the dolphins rocked forward and back
snow blower
Store window for John Carter @ Spaeth. The screw of the snow blower turned.
cyclorama mechanism for NY Historical Society
Historical Society in NYC. General Lafayette returns. Inside the red drum was a 360 degree image of a famous painting of Versaille, which rotated with the crank. later replaced with a motor.
dancing dimented santas
dispenser for fruit roll ups
lottery ticket rig
The ticket would thrust forword when the box was open
mtv 'pimp my ride' microwave
singing- tail flapping fish
Virginia Lottery
the mouth opened and closed, and the tail flapped....
spring loaded note ejector
One of many bomb rigs for One Life to Live
mustache rig
battery operated mustache vibrator/occilator.
The plastic base was attached to the upper lip of the actor, while the mustache on top of it was allow to wag violently, pivoting in the center
vibrating mustache rig snl copy
SNL commercial parody. A company that offers mustache rides.
weeping glasses rig
these worked really well, but did not get used in the SNL skit. Conan O'brien tried them during one of his shows.
moon seat.
This was filled with Kenoflows and was a seat for Debbie Reynolds who was super nice
hanging tvs.jpg
paper guide rig
This is upside down. It hung under the table and guided a long strip of paper up to the surface and flat across a rectangular cut out in a book. I forget the product.
paper guide rig book
This is what it looked like on the surface of the table. The paper had to slide across that 'window' . The idea being that you can see paper texture moving while digital images scrolled along at the same speed.
animatronic turtle
The job was to create a Red Eared slider - that's a type of turtle - whose head and feet retracted using radio control. Really fun to make. The head also turned and looked up.
Animatronic turtle jockey on dog
Here is the radio controlled turtle strapped to the dog. I found the commercial on Youtube and all the comments were about how cruel it is to use real turtles flopping around on the backs of dogs. Ha!
There were real turtles there...but well cared for and barely used.
kahlua and coffee walking rig
These two turned and looked at each other while they rounded a corner in a miniature city scape.
This was a floor plan model for a real estate company. The floors slide forward and back, so you can pick your condo while visualizing where is it in the building.
cell phone model
This was created so that an actor could collapse all the layers of a cell phone together at once. They supplied me with the layers and I rigged them so they swing together, and register with the neighboring layers. They removed the rig in post.
mechanical doll
lil Poundcake....arms raised and syringes extended and squirted liquid...radio controlled
Turtle rig
Another view of the turtle rig
lil Poundcake insides
I harvested the servos from this...but you can kind of see how it worked...
smoke effect test
to produce a column of weird smoke at night...in a swamp with tons of ticks and mosquitos
soda bottle rig
For Clash Royale Double Bubble
Pressurized fake soda came shooting out both ends