'JJ Casuals' commercial for snl
your feet slip inside these so you can appear to be shoeless (like Jack Johnson...) and still be wearing footwear.
fake brownie man for SNL
brownie husband in repose
brownie Husband, the morning after
edible brownie man for SNL
brownie husband product for SNL
man tray with batter. micro wave ready
awards for SNL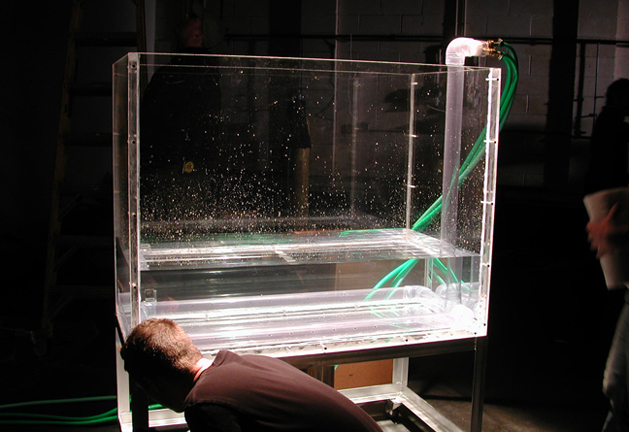 300 gallon bubble tank for SNL
This tank had a fake dog in it, and a real one at one point.
'tech belt' commercial for SNL
for all your cell phone/blackberry, etc. stuff. except it looks like a bomb vest. Filmed at JFK airport
big brawnie miniature for SNL
SNL repeatable tree break rig
Big Brawny taking down a tree with his bare hands. That is Will Ferrell's foot.
SNL tree stump
Big brawn prop. Full sized foam rubber with some splinters I cut on the band saw.
candy dispenser for SNL
pixie dust sugar flowed from her breasts
night light for SNL
chair for snl.jpg
very bright and weighed a ton
hoop seat for SNL
very comfortable, except for that point in the back
modern furniture for SNL
toast chair for SNL
They added a crunchy sound effect when someone sat on it during the show
chair for SNL
we made three pieces of bizarre furniture in less than two days. You can see where your feet go..
comedy crash miniature for SNL
house blew up when the truck hit it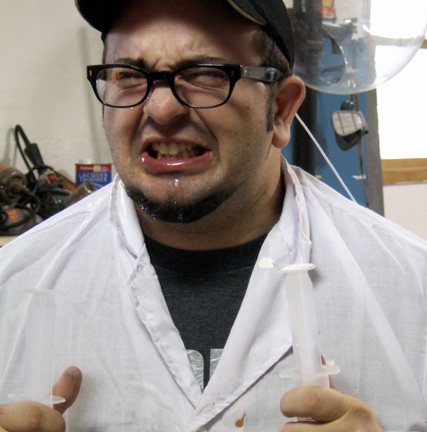 crying glasses for SNL [anthony]
never used in the skit, but worked great.
dyson toilet for SNL
ravioli filled up that chamber as water swirled around the bowl and down below the table
dyson ravioli blow out - SNL
a humorous mishap with pressurized ravioli..Fred was a good sport to pose for this, except the ravioli that was stuck to his forhead fell off before I could take the shot.
edible diaper cassarole for SNL
edible diaper commercial parody for SNL
chocolate worms for SNL
Sculpted Tootsie rolls with crushed up 'Famous wafers' for dirt.
madagasgar roach coffin for SNL
That bin that the guy is holding has thousands of big live Madagascar cockroaches. He is about to dump them in there. That is his son I think, who didn't mind at all.
Fondant pig uterus for SNL
Thank you Keith for your culinary expertise!
sugar maggots for SNL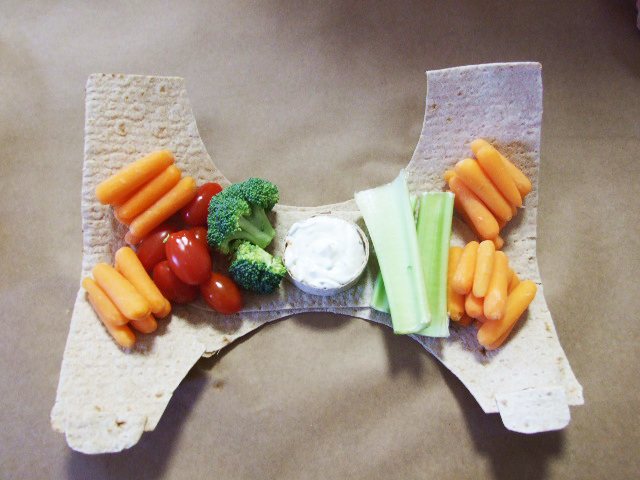 edible diaper crout de tet for SNL
edible lip stick for SNL
we used star burst as the sculpting medium
fake bomb for SNL
fake coin for SNL
Real silver. Tom sculpted it in wax and we sent it out to get cast in the jewelry district.
foam cat toy for SNL
futuristic camp fire device for SNL
gas guzzler trophy
giant custom book for SNL
giant pipe
Golords for SNL
Knocking on Madame Wong's door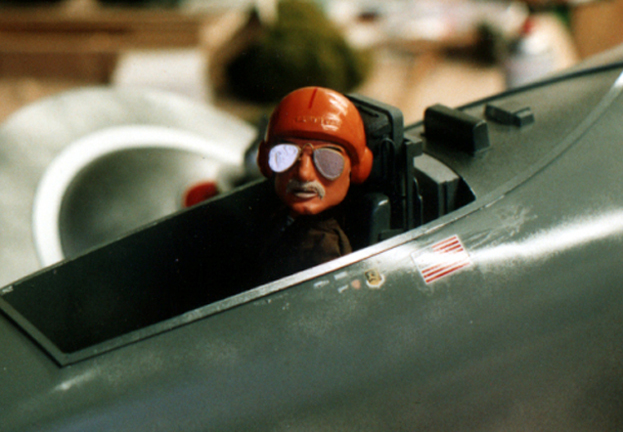 golords puppets for SNL
huge magnifying glass for SNL
Harry Potter skit, with Lindsay Lohan. Used to maginfy her cleavage...
ice chair for SNL
meat flavored dummy for SNL
The cat did not like all the joking around
piranhas for piranhas attack SNL skit
These were glued to someones out fit. the tails jiggled
pug side car for SNL
Steve Carrell rode with the dog, but it nevered aired.
SNL bomb.
SNL pipe bomb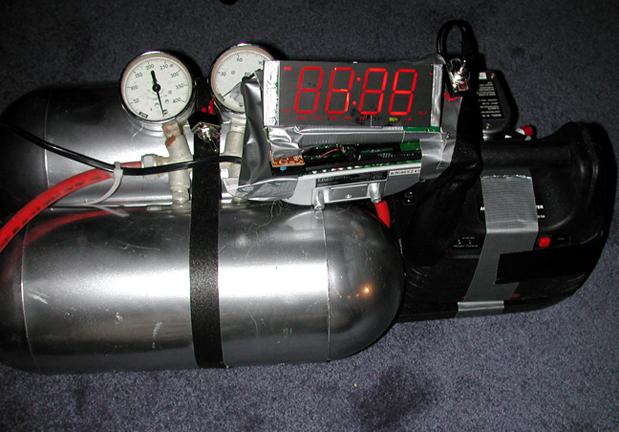 snl bomb 2
Mcgrubber bomb...all these fake bombs had to transported to the stage from my shop in a bag or a box in cab and sometimes a bus
Butt cheek models...SNL commercial parody
These rubber loafs are suppose to demonstrate how the product reduces fart noise...so those are simulated butt cheeks for lab use.
bling baby for SNL [with Daryl].jpg
spring chair for SNL
swiffer sleepers kid for SNL
They had a stunt doll for the sweeping scenes
tour de france awards for SNL
When Lance Armstrong was on the show
mustache riding rig for SNL
battery operated mustache vibrator.
vibrating mustache rig for SNL
They removed the black wire in post.
wierd little custom shoes for SNL
wood bears for SNL
woomba commercial parody product for SNL
we made a radio controlled one and a few puppeted versions
Golord puppets for SNL
I loved making this goofy car
golords puppets for SNL
'apocolypto' ear neckless for SNL
Anthony loved makin these
'apocolypto' mortor and pesl for SNL
Saddam's lego
This is Saddam Hussein's 'spider hole' - used in a parody on the Carson Daley show around the time Saddam was captured
joke chandeliers for SNL
'Phantom of the Opera' chandeliers..for a Vincent Price skit on SNL
SNL commercial parody
SNL - Chess for girls
sorry for the screen grab..nice and blurry...Custom resin chess piece components grafted onto assorted doll bodies..with clothes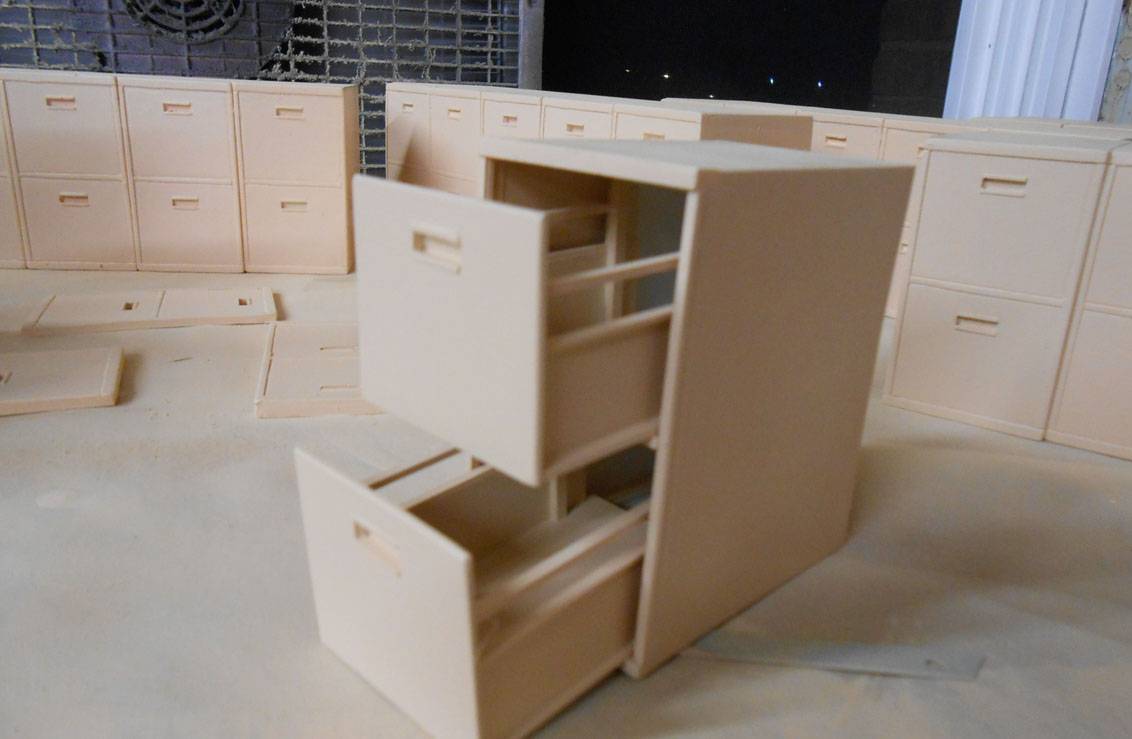 Miniature file cabinets for The daily show .jpg
Used by the Daily Show in a bit about all the backed up files at the Veterans Administration.
big tape worm puppet.jpg
Not so much a puppet..as it has no moving parts..although it did drive a car in the Deadbeat show..
bucket o high 5's.jpg
An SNL thing for skit. I think these were the hands of Snow White's Dwarves used to give the host high fives.
Naked lady ice luge.jpg
For a movie..Made of vacuum forms and resin...yes, a naked lady with her legs spread...I had to assemble this ice lady on location. But sort of in public..some kids and their moms watched me work. It took hours.
technology hump.jpg
"lets make technology hump" taped SNL..at the beach
lil Poundcake
This was a doll rigged with servos to raise the arms and deploy two syringes...and then squirt liquid out the tips...and her eyes blinked...all radio controlled ...except the squirting liquid which was me puffing away on a tiny tube.
vape for meth
made of cast resin and an LED...When Aaron Paul was the host
Miniature interrogation room - technology hump
I just made the furniture and light fixture ....part of a group of props and mini sets I had to make in a very short period of time.
fake placenta
made of latex for documentary...was not a comedy I'm fairly certain
Abraham Lincoln Doll
A one night job for SNL...all I had was black sculpting resin and a girl doll...painted his face later